Education, training & schools
Sustainability education and training will underpin sustainable development into the future. Whether you're building your career in sustainability, driving corporate change or delivering education curricula in schools, this page provides some resources to get you started. Education and training can have community-wide spin offs. In addition, building skills and knowledge provide benefits to any green initiative by building the capacity and cohesion of  teams, enabling organisations to get the most out of building retrofits, embedding effective and efficient reporting systems and establishing ongoing stakeholder engagement processes.
Check out our event calendar for sustainable business training opportunities.
SCHOOLS
Teaching sustainability in Australian schools
Currently the Australian Curriculum includes sustainability topics across a number of subject areas. The best source of information and resources for sustainability in the curriculum can be found at the Cool Australia website here.
The 'Earth Citizenship' framework may also be of interest (pictured).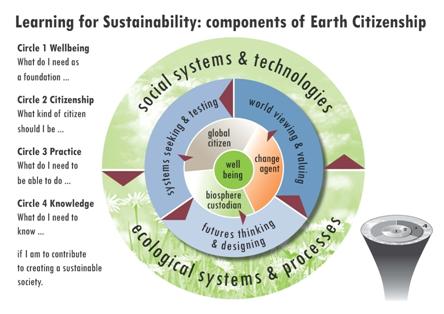 In Australia, non-government organisations and local councils also contribute programs which can support environmental learning in schools. For example, Keep Australia Beautiful have an Eco-Schools network, competitions and guidance.
Teaching sustainability in schools around the world
Click here to find out more about how thousands of schools like this one are joining the Green Schools Alliance and making sustainability work in schools with multiple benefits for students, the bottom line and the broader community.
Education for Sustainability (EfS) resources – for

schools

:
International
In February 2013, UNESCO released the first free online curriculum package for high school teachers delivering climate change education for sustainable development (CCESD) – it includes powerpoint slides.
The Gaia Project, Canada, is an educational charity dedicated to providing project based sustainability education to students which works closely with students, teachers, schools and outside professionals.
Centre for Green Schools – driving the transformation of schools towards more sustainable, healthy places to be.

Australian
See also our topic pages about consumers and children and young people.
UNIVERSITIES
Finding a sustainability course in tertiary education institutions:
The Australian Government has funded the establishment of a website promoting sustainability education in tertiary education institutions. Some of the course content has been shared on the website.
Education for Sustainability (EfS) resources – 

tertiary education:
This 6 minute film outlines the role of sustainable universities. The film features, one of the foremost experts on the topic, Carol Adams.
PEAK BODIES & PROVIDERS
Australian
Stay tuned for a directory of sustainability training providers.
See also the page for Peak Bodies and Leadership
International
Walking the talk – sustainability reporting by universities:
Key reading:
EfS events to watch for:
WORKPLACE TRAINING
Sustainable business training resources:
Manufacturing Skills Australia has a dedicated website http://sustainabilityskills.net.au
It includes elements of a MSS11 Sustainability Training Package for TAFE including qualifications for business 'sustainable operations' and for environmental monitoring and technology. There's also a link to a Sustainability Community of Practice in New South Wales.
Check out our event calendar for other sustainable business training opportunities.