Investment
What is responsible and ethical investment?
The United Nations' website relating to the Principles for Responsible Investment (UNPRI) says:
"Responsible investment is an approach to investment that explicitly acknowledges the relevance to the investor of environmental, social and governance (ESG) factors, and the long-term health and stability of the market as a whole. stability of the market as a whole. It recognises that the generation of long-term sustainable returns is dependent on stable, well-functioning and well governed social, environmental and economic systems."
The UN highlights the importance of responsible or ethical investment by saying:
"While our market-based economy has emerged as the most efficient system for allocating scarce economic resources, it is giving rise to growing array of social inequalities, environmental impacts and negative externalities which are affecting companies. Unprecedented environmental and social pressures driven by food, water and energy security, access to natural resources, climate change, human rights, supply chain labour standards and ageing populations have become material issues for business and the corporate world. The impact of poor corporate governance practices on shareholder value, accentuated by the global financial crisis, has also lifted issues such as transparency, corruption, board structure, shareholder rights, business ethics, risk management and executive compensation to the top of the investor agenda."
The UNPRI has developed six principles for responsible investment. Hundreds of asset owners, investment managers and professional service partners have signed up to the principles. Some organisations have provided reports against the principles.
We will incorporate ESG issues into investment analysis and decision-making processes.
We will be active owners and incorporate ESG issues into our ownership policies and practices.
We will seek appropriate disclosure on ESG issues by the entities in which we invest.
We will promote acceptance and implementation of the Principles within the investment industry.
We will work together to enhance our effectiveness in implementing the Principles.
We will each report on our activities and progress towards implementing the Principles.
Research on social and sustainable investment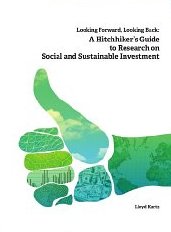 In February 2013, Lloyd Kurtz of FSinsight published an e-book, "A Hitchhiker's Guide to Research on Social and Sustainable Investment", which provides a succinct overview of research on social and sustainable investment over the last thirty years or so. It includes a section reflecting on approximately 100 studies that have been conducted since the global financial crisis.
The guide is divided into two parts. The first part consists of an essay by Lloyd Kurtz covering the first three decades of research into social and sustainable investment. The second part bundles articles on all the studies and books that Lloyd Kurtz mentions, plus references to the online libraries where this research can be found. Almost all articles in the second half of this guide have also been published on fsinsight.org.
Peak bodies and resources: