Communication & behaviour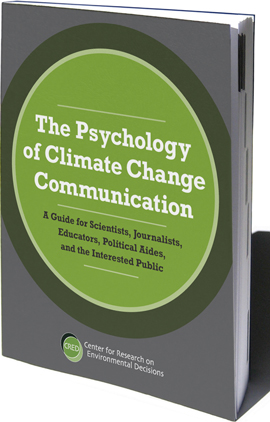 Encouraging pro-environmental behaviour in organisations is challenging because sustainability is complex and behaviour occurs in a wide range of contexts. Of course different people have different needs, drivers and values and there may be contradictions in behaviours depending on the situation. The research tells us there is no 'silver bullet' and that 'education' is not sufficient for change.
Good planning for change often means understanding your audience, encouraging a participatory approach, building social norms and tailoring strategies to fit the situation.
Whether you're encouraging change in individuals, in settings like workplaces and schools, or at the country level, a combination of strategies will be needed.
Strategies may include marketing, carefully framed and delivered 'sticky' messaging and using high profile opinion leaders / early adopters (modelling behaviour) at the outset, including opportunities for interactive dialogue. Prompts, supports, incentives and disincentives can help in some cases, or even humour. Bear in mind that imposing guilt can backfire unless your particular audience is offered personally relevant, positive, tangible, appealing options which are doable in their situation. If there's a perception that everyone else is doing it, you can boost your chance of success.
In addition, it's usually necessary to embed systems and policies such as legislation, physical and social infrastructure or other mechanisms (perhaps needing some advocacy to get it going). Systems help people to fall in line with what is expected and socially accepted as normal and appropriate behaviour (social norms). So despite the barriers, behaviour change, cultural change or social change can be successful in time, especially with the right kind of leadership buy-in and organisational values at the start.
Here's an example of an online tool to help organisations to plan and collaborate on sustainability – gaining buy-in, calculating return on investment, engaging staff, reporting on your success and so on. The tool is called the Village Hive and is offered by Sustainability at Work, an Australian company (website under review).
Here are some more sources and tools which may help in your context,  depending on the time and resources you have available to absorb and utilise it all.
Practical resources for consumers on sustainable living
WA Living Smart program offers a range of fact sheets on many sustainable living topics. Average participating household savings per annum were 1.1 tonnes CO2e- GHG, 19,000 litres of water & $200 lower electricity bills. It was a workshop, phone coaching and information resources campaign.
The Australian Government has set up two websites with a host of resources to help consumers and organisations solve problems around sustainability including Living Greener and EEX (about energy efficiency).
Queensland's ENERGEX and Ergon have established the YourPowerQld site to help navigate energy saving issues for consumers and businesses.
Short publications on encouraging pro-environmental behaviour
Organisations with resources on pro-environmental behaviours and change:
Guides to pro-environmental behaviours and communicating (at an individual, organisational and large scale):
Books about pro-environmental behaviours, engagement and social change:
Books on the role of the media in climate change communication:
The evidence base and journal articles:
Presentations on pro-environmental behaviours:
Videos about behaviour change:
Guides to community engagement:
Events to watch for about behaviour and sustainability:
More – see also resources on the Getting to Sustainability website under 'Basics' and 'Resources for Sustainability' including:
Please be in touch if you would like assistance with accessing or developing any research or tailored tools other than what is available here.