Top companies show large rise in Corporate Responsibility Reporting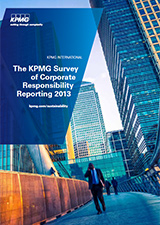 January 2014: Australia's top 100 companies show a significant rise in the number of companies undertaking corporate responsibility reporting. A study of Australia's top 100 companies has shown a significant rise in the number of companies reporting on corporate responsibility (CR). The trend is especially pronounced in the mining and financial services sectors.
The 8th KPMG Survey of Corporate Responsibility Reporting, a global analysis of 4,100 companies – the largest 100 by revenue in 41 countries – shows a sharp rise to 82 percent (from 57 percent in 2011) of leading Australian companies who report in the area of CR. The global and Asia-Pacific averages are both 71 percent, though the latter has shown a substantial increase – up from 49 percent in 2011.
Adrian King, KPMG Australia's Partner in Charge of Climate Change & Sustainability Services, said: "The debate over whether companies should publish a CR report is over. Even though it is not mandatory, companies now recognize that stakeholders including investors, customers and the wider community, have a right to see more than just companies' financial statements".
The key findings for Australian companies surveyed include: Of the 82 percent of companies that report: 51 percent produce stand alone reports, 29 percent report only in the Annual Report (including 17 of the 25 new reporters since the last survey) and 2 percent report on their company website only; Significant increases have been seen in the mining sector with 83 percent of companies reporting (2011 – 67 percent) and in the financial services sector with 68 percent of companies reporting (2011 – 33 percent) More than half (54 percent) now have their CR reports externally assured The Global Reporting Initiative (GRI) framework is overwhelmingly used as the basis for CR reports In the world's top 250 companies (the G250), Australia comes joint fourth in terms of quality of reports.
Adrian King said: "Overall, Australian companies have performed very well in international comparisons both in quality and quantity. But there are several areas that still need improvement, given that even the global top 250 companies only scored 59 percent in terms of overall quality".
Importantly, only 46 percent of Australian companies identify social or environmental impacts across their supply chain.  Improved management and governance in this area needs addressing, as adverse performance in its supply chain could potentially affect a company's licence to operate.
The surprising increase in Asia Pacific CR reporting, means that for Australia to maintain a leading position, there is still much to do in relation to CR and no room for complacency", said Adrian King.
Global summary
There has been a dramatic increase in Corporate Responsibility reporting (CRR) rates in Asia Pacific over the last 2 years. The eighth edition of the KPMG Survey of Corporate Responsibility Reporting 2013 surveyed 4,100 companies across 41 countries with a focus on analysing the reports of the world's largest 100 and 250 companies. This survey provides a snapshot of current national, global and industry trends and insights in Corporate Responsibility reporting.
Key insights into corporate responsibility reporting around the world
CRR has evolved into a mainstream business practice over the last 2 decades – undertaken by 71 percent of companies surveyed in 2013.
The average quality of Australian companies' reports rated highly at 70 percent.
Six key types of risks companies face from social and environmental megaforces.
Seventy-eight percent of reporting companies worldwide refer to the Global Reporting Initiative reporting guidelines.
Large companies appear to be reporting on materiality and strategy, but more transparency is needed on the materiality process.
Download the report, a two-page Australian summary (showing an increase in reporting) or the executive summary here at KPMG's website.
For an article on the report's contents and analysis on Singapore and India, visit Eco-Business here.