St Aidan's and their Earth Angels win Premier's Sustainability Award 2014
Ngaire McGaw, Principal of Getting to Sustainability, has played a key role in leading St Aidan's Anglican Girls School to win a 2014 Premier's Sustainability Award (Community category). St Aidan's Junior School is well-known for its Earth Angels Club for students interested in gardening, nature and learning about sustainability.
The 2014 Premier's Sustainability Award recognises the achievements of Queensland communities, schools, individuals, businesses and industries in adopting sustainable business practices. The Community Award is given to a Queensland community group or a community partnership for measurable achievements in environmental care and natural resource stewardship.
St Aidan's won the award for their holistic work since approximately 2006, combining:
efforts of classroom teachers
the Junior School Earth Angels club (see below)
built environment (such as 50,000 litre underground water tanks) and landscaping initiatives
the school's partnerships with internal and external stakeholders including organisations such as Brisbane City Council (through its Active School Travel Program).
Other finalists in the category included the Sunshine Coast City Council. In 2014, the awards attracted 120 nominations across nine categories ranging from some of the state's biggest infrastructure projects to small, innovative and game-changing enterprises. Over 450 people attended the awards presentation dinner at the Brisbane Convention and Exhibition Centre on Friday 30 May 2014.
About Sustainability at St Aidan's Anglican Girls' School
St Aidan's has sustainability integrated into its Strategic Plan. While the junior school garden and compost systems are the most visible part of the school's sustainability work, the school continues to build on their achievements in diverse ways across environmental and social sustainability.
2013, was a milestone year – the school became one of only 13 schools in Queensland to achieve a four star rating or above under the Cleaner Greener Schools accreditation program of Keep Australia Beautiful. Achievements were focussed on the Active School Travel program and the Earth Angels club. The vegetable garden was upgraded, composting systems were expanded and 'worm farm licensing/training' was delivered to students. Other activities/achievements included:
Receiving a highly commended in the 'Greening Australia' competition

Compilation of a draft Sustainability and Environmental Management Plan, designed to better engage a range of stakeholders and to monitor outcomes

Curriculum activities such as excursions to Oxley Creek/Common, environmental education centres and the CSIRO to name a few
Curriculum activities such as workshops using books such as Eco Warriors and a visits by environmental authors

Waste reduction initiatives including recycling and paper use reduction (such as a shift towards electronic newsletters)

Green Lane Diary activities such as community clean up events and excursion to Green Cross events
Expansion of environmental resources such as school library holdings
Celebration of national days such as World Environment Day (5 June) and Wombat Awareness Day (Wear Wiskers Day / Hairy-nosed day 11 May)
Policy changes such as an end to the long-held practice of graduates celebrating by throwing their shoes in the Brisbane River (Soles for Souls has been adopted)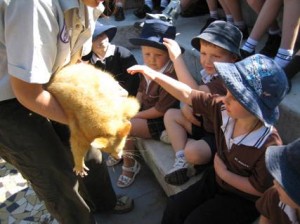 Samples of earlier or ongoing initiatives include:
Rubbish audits /campaigns to reduce waste, eg Nude Food days, upcycling workshops/displays and a re-usable tuckshop bag system to reduce paper bag use
Social sustainability initiatives including fundraising, Eco Christmas gift giving and Fair Trade Christmas Markets, and hosting Aboriginal Art markets
Uniform recycling and text book hire
Tree planting at Montrose Access charity
Workshops including Wild Mountains environmental camp
A public compost workshop delivered by Brisbane City Council to over 80 attendees
Public speaking competitions and lunchtime movies
Importantly, teachers are encouraged to integrate sustainability across the curriculum. Examples of particular areas of the National Curriculum which are delivered each year at the school cut across themes such as:
conserving water
minimising pollution
role of aquatic habitats in biodiversity
About St Aidan's and their Earth Angels
The school's Earth Angels is a group of 40 junior school students who have met weekly since 2006. They help influence and work in partnership with around 800 students, their families, teachers and other staff.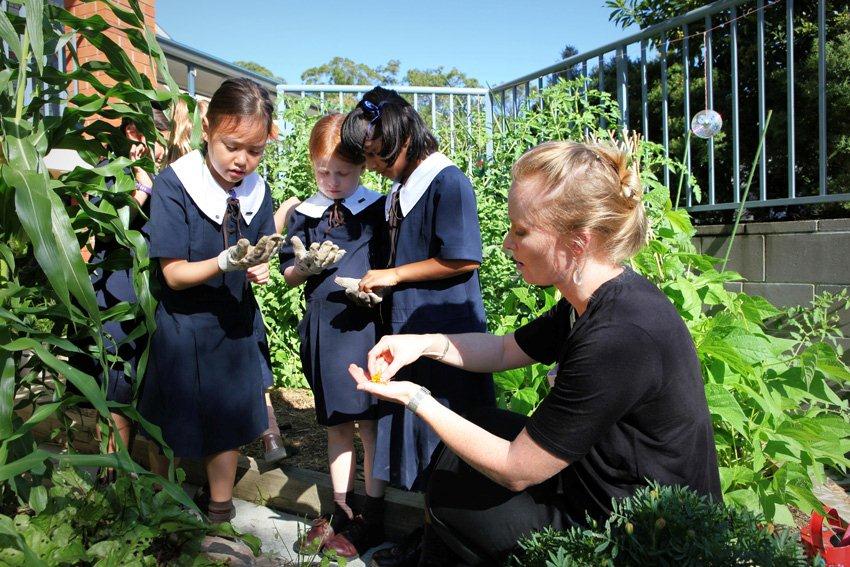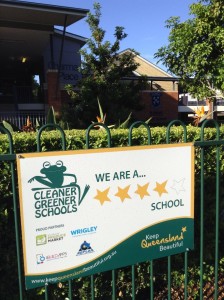 To find out more aobut St Aidan's environmental initiatives in the school magazine, The Huddle: Dec 2008 –  http://tinyurl.com/on3vsb4 Dec 2011 – http://tinyurl.com/ovt34xy June 2013 – http://tinyurl.com/oz758bj Dec 2013 – http://tinyurl.com/pno5sul
For more details on the Premier's Sustainability Awards, view the media release here.
Ngaire has previously won a ClimateSmart award in this category in 2011 and won a Lord Mayor's Green Heart Hero Award in 2009. She was also recognised in the top 100 Global Sustain Ability Leaders in 2012 and her work has been recognised in various other local and national awards.