Special Report on the US Green Retail Decisions Innovation Summit
Each year, the US based Green Retail Decisions Innovation Summit brings the retail sector together in search of greener business models. Although, the Green Retail Decisions Innovation Summit is an exclusive invitation-only event for retail industry senior executives and leading industry suppliers, a special report has been compiled which provides an overview of the summit proceedings.
Read the special report on the summit here.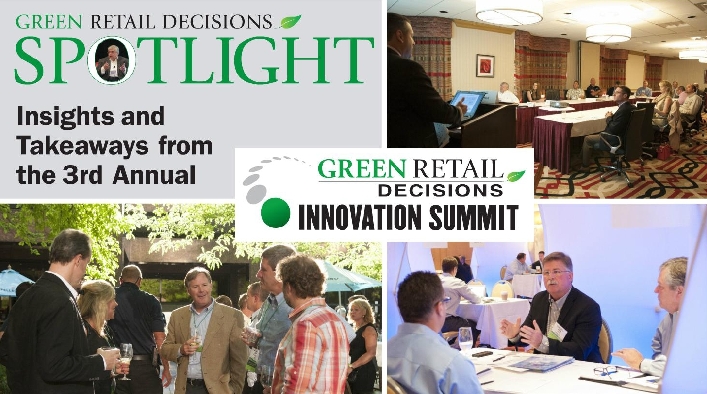 During this focused three-day event, qualified participating retailers and suppliers engaged in boardroom briefings and one-on-one meetings, heard keynote presentations, and participated in networking. Developed in partnership with a retailer advisory board, the Green Retail Decisions Innovation Summit is the only retail industry sustainability event showcasing forward-looking work being done by leading industry suppliers, and focused on innovation, strategy and the future of green retailing.
Collaboration and community continued as themes during this year's Summit, clearly demonstrated by retailer and supplier attendees, as well as by special keynote speakers, including Fred Bedore of Walmart, Kathy Loftus of Whole Foods Market and Dave Oshinski of The Home Depot.
About Green Retail Decisions – Sustainable Retail Trends
Green Retail Decisions is part of the Tesoro Business Media family of media brands. Tesoro Business Media also publishes Store Brands Decisions and produces the Store Brands Decisions Innovation & Marketing Summit. Tesoro Business Media is focused on bringing business media industry best practices to the retail industry and helping retailers and suppliers improve their profitability.
The mission of Green Retail Decisions is to help improve the profitability of retailers and their suppliers by providing actionable information and insights on best practices in sustainable retail and supply chain program development, marketing and implementation. As the first web based provider of targeted information for Green Retail executives, Green Retail Decisions is committed to delivering information and analysis related to sustainable retail news, trends and strategy. Green Retail Decisions serves as a catalyst for innovation in sustainable retail program development, marketing and implementation.
The Green Retail Market is made up of two hundred and ninety retail companies that each generate $1 billion or more in annual retail sales. Our primary readers are executives at these retail companies who are responsible for the development and implementation of sustainable retailing programs addressing energy reduction, waste reduction, green building and creating a sustainable supply chain.
All channels of retailing are represented including: Mass Merchants, Supermarkets, Department Stores, Chain Drug Stores, Warehouse Clubs, Dollar Stores and Specialty chains including- Apparel, CE , Books, Auto Aftermarket, Home, Jewelry, Office Products, Pet, Sporting Goods and Toy chains.