Australia's National Preventive Health Strategy – consultation to Sept 2020
The development of the National Preventive Health Strategy was announced in June 2019 but was placed on hold due to the emergence of COVID-19. Information on the Strategy including the Expert Steering Committee is available on the Department of Health website here: https://bit.ly/3hIblkQ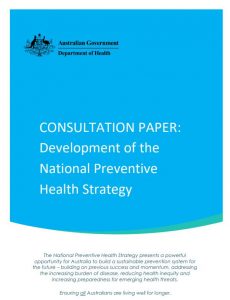 Work has now recommenced and the next step in the development of the Strategy is the public release of the Consultation Paper – based on key elements discussed during earlier consultations in late 2019 and early 2020.
Feedback received from this public consultation will be used to inform the development of the Strategy, which will be released for consultation in late 2020.
The Strategy is envisaged as providing an overarching, long-term approach to prevention in Australia by building systemic change to ensure the best outcomes for all Australians. The Strategy will identify areas of focus for the next 10 years and outline evidence-based approaches to underpin future priorities.
The Strategy will aim to help Australians improve their health at all stages of life, through early intervention, better information, and targeting of risk factors and the broader causes of health and wellbeing.
AhCRA has pointed out the significance of the social determinants of health on many occasions. https://bit.ly/3jkMLa4
The Strategy will recognise that health is not just the presence or absence of disease or injury – more holistically, it is a state of wellbeing. The Strategy thus will focus on system-wide, evidence-based approaches to reducing poor health.
The Consultation Paper is available on the Commonwealth Department of Health's Consultation Hub. https://bit.ly/3gAjeYd
The paper will be available online for comment for a four-week period and will close on 28 September 2020.
Stakeholders are urged to draw on their experience and expertise to evaluate the proposed Framework for Action and respond to the on-line survey here: https://bit.ly/3jvCBDX
Readers are also asked to disseminate the link to the Consultation Hub via your networks and/or share this information on your social media channels. A wide range of views and perspectives are sought to ensure full consideration of all relevant factors.
For what it's worth, here's my rather hurried response.
Ngaire response National Preventive Health Strategy 2020 consultation