Moreton Bay opens new 5 star public green star building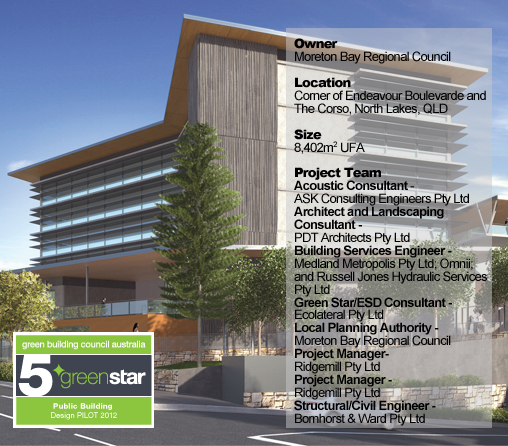 Corso North Lakes is one of Australia's first public Green Star buildings with a five star rating.  It is Moreton Bay Regional Council's new $45 million community and commercial complex located at 10 The Corso, North Lakes.
The state-of-the-art facility opened on Saturday 13 September, 2014 showcasing a modern library and community centre, three levels of commercial office space and undercover car parking.
The facility generates up to 145 kilowatts of power, has extensive rain water harvesting and technology to regulate air conditioning, natural ventilation and light.
Corso North Lakes is also expected to save 1,300 Olympic sized swimming pools of water each year and reduce carbon emissions by 62 per cent.
Green star building features
5 Star Green Star certification by the Green Building Council of Australia.
More than 550 roof-top solar panels generate power for much of the building's daily needs.
Screens display information about how much power is being generated and used at any time in the building.
Rain water harvesting allows up to 200,000 litres of rain water to be captured on site and used in The Corso's bathrooms, gardens and grassed areas.
Cutting-edge technology regulates lighting, air-conditioning and promotes natural ventilation with initiative sensors helping to power-down rooms and floors when they aren't in use.
Secure end-of-trip facility for 60 bikes.

Corso North Lakes is conveniently located in the heart of North Lakes with covered walkways connecting to nearby retail, commercial and transport hubs.
Corso North Lakes has been funded by Moreton Bay Regional Council and the Federal Government with $7.8 million from Regional Development Australia and $3 million from Department of Education, Employment and Workplace Relations.
Read the case study by the Green Building Council of Australia here.