GE Buys Remote Energy Monitoring for UK smart meter initiative
January 2011: Giant GE has acquired smart meter specialist Remote Energy Monitoring for an undisclosed amount in a bid to stake a foothold in the UK market.
The move puts GE in a prime position to benefit from the UK Government's plans to roll out smart meters to all homes by 2020 or sooner if possible.
GE's end-to-end software, hardware, and communications technologies, is to be combined with electric metering, taking the tracking of energy usage much further.
The metering solutions support a range of enhancements including remote activation and disconnection; two-way communications between utilities and sites; dynamic pricing; pre-paid account management; and energy consumption adjustments in response to peak pricing events. Additionally, robust software and communications allow consumers to get energy information and control energy consumption through TV, PC, smart phone and/or other mobile devices.
"Advanced software, flexible systems and robust communications are critical elements in modernizing our infrastructure to meet the world's energy needs," stated Bob Gilligan, vice president—digital energy for GE Energy Services. "The accelerating pace of change of the energy industry demands flexible, cost-effective solutions that can be modified to meet the changing needs."
According to Gilligan, "Combining Remote Energy Monitoring's U.K. smart metering expertise with GE's worldwide metering, manufacturing and smart grid leadership will expedite the rollout of this important technology, enabling the United Kingdom to lead in this area of energy management and efficiency."
"Energy companies can install our new meter solution, with its interchangeable and upgradeable modules, with the assurance it can be easily adapted to meet future communications and other technological advancements," stated Nigel Rzemieniecki, CEO, Remote Energy Monitoring, Ltd. "Adding GE's resources helps us continue to strengthen our technology development and broaden the reach of our smart, future-proof solution today."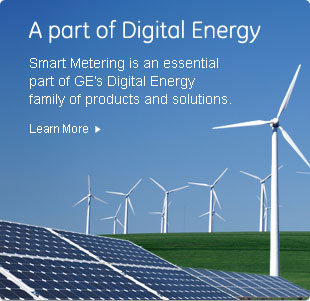 All of the company's technology and support team will be joining GE. Headquarters will remain outside of London, UK.
Find out more here at the GE websites:
http://www.gedigitalenergy.com/
http://store.gedigitalenergy.com/SmartMeters/front.asp
Learn about the basics of smart meters at: http://www.smartmeters.com/smartmeters-101/