Evidence linking green office design with staff health, wellbeing and productivity
25 September 2014: A new report from the World Green Building Council (WorldGBC) finds overwhelmingly that there is evidence linking green office design with staff health, wellbeing and productivity. Significant impacts include reduced absenteeism.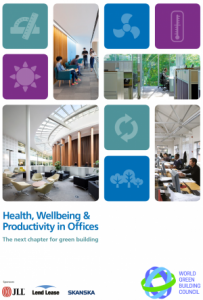 Launched as part of the Green Building Council of Australia's (GBCA's) World Green Building Week activities, Health, wellbeing and productivity in offices: The next chapter for green building finds a range of factors – from air quality and lighting, to views of nature and interior layout – can affect the health, satisfaction and job performance of office workers.
The report – sponsored by GBCA members JLL and Lend Lease – also presents a simple toolkit that businesses can use to measure the health, wellbeing and productivity of their buildings and inform financial decision-making.
The GBCA's Chief Executive, Romilly Madew, says: "Of the almost 25 million square metres of office space across Australia, 23 per cent is now Green Star-rated. Operating from sustainable office space is increasingly recognised as a strategic business decision that is not only environmentally and economically-sound, but can also enhance a company's biggest asset and expense – its people.
"This report, led by two GBCA member companies that are global green leaders, will help Australian companies to 'join the dots' between their workplace productivity and the workplace itself."
Geoff Dutaillis, Group Head of Sustainability at Lend Lease, says: "Whatever business you are in, you are in the business of people. How a building 'works for people' should be the priority question. This report provides further evidence that workplaces with clean air, natural daylight and engaging and adaptable layouts all contribute to making healthier, happier and more motivated individuals who create stronger, more resilient and profitable companies."
The report underscores the role green building has in reducing absenteeism – something that is a significant drain on business productivity. The annual absenteeism rate in the United States is three percent per employee in the private sector, and four percent in the public sector, costing employers US$2,074 and $2,502 per employee per year respectively. In the United Kingdom, poor mental health costs employers £30 billion a year through lost production, recruitment and absence In Australia, the aggregate cost to business of ill-health and absenteeism is AUD$7 billion per year.
Peter Hilderson, Head of Energy & Sustainability Services Asia Pacific at JLL, says: "As this report so eloquently points out, there is a natural sweet spot that occurs at the intersections where buildings, people and finance overlap. Addressing each of these aspects in concert will lead to a more sustainable and productive outcome for an organisation and the planet. Organisations that invest the time and apply the necessary rigour to implementing this framework will unlock the benefits of these inter-relationships and reap the rewards."
Jane Henley, CEO of the World Green Building Council, says: "The evidence linking good office design and improved health, wellbeing and productivity of staff is now overwhelming. There is unquestionably a clear business case for investing in, developing and occupying healthier, greener buildings."
Health, wellbeing and productivity in offices builds upon the 2013 WorldGBC report The Business Case for Green Building which featured a chapter on the health and productivity benefits of green buildings.
Download – Health, wellbeing and productivity in offices: The next chapter for green building.
Summary of evidence
Indoor air quality: A comprehensive body of research suggests that better indoor air quality (low concentrations of CO2 and pollutants and high ventilation rates) can lead to productivity improvements of 8-11%.
Thermal comfort: Research demonstrates that thermal comfort has a significant impact on workplace satisfaction and modest degrees of personal control over thermal comfort can return single digit improvements in productivity.
Lighting and views of nature: Several studies have estimated productivity gains as a result of proximity to windows, with experts now thinking that views from windows are probably the more significant factor, particularly where the view offers a connection to nature.
Noise and acoustics: Research suggests that being productive in the modern knowledge-based office is practically impossible when noise provides an unwanted distraction. This can be a major cause of dissatisfaction amongst occupants.
Interior layout: The way the interior of an office is configured (including workstation density and configuration of work space, breakout space and social space) has been found to have an impact on concentration, collaboration, confidentiality and creativity.
Active design and exercise: Health can be improved through exercise, and so active design within a building, and access to services and amenities such as gyms, bicycle storage and green space can help to encourage healthier lifestyles of building occupants.
Toolkit to measure health, wellbeing and productivity
Financial metrics: Absenteeism, staff turnover, revenue breakdown (by department or per building), medical costs and complaints, and physical complaints.
Perceptual metrics: Studies which test a range of self-reported attitudes into health, wellbeing and productivity in the workplace can contain a wealth of information for improving office performance.
Physical metrics: Direct measures of the physical office environment, such as temperature, are key to measuring the effect on the health, wellbeing and productivity of workers. Exciting developments in this area such as portable and wearable technology are likely to substantially expand our understanding.
Steering Committee
Miles Keeping (Chair), Deloitte Real Estate
Dr Fiona Adshead, Independent Advisor
Staffan Haglind, Skanska
Claudia Hamm, JLL
Robert Lam, Wong & Ouyang
Roger Limoges, US Green Building Council
Prof Vivian Loftness, Carnegie Mellon University
Mark Nicholls, Retired Bank of America Real Estate Executive
Hector Sandoval, Carrier Enterprise
Ché Wall, Flux Consultants
Duncan Young, Lend Lease
Corporate sponsors of the report: JLL, Lend Lease and Skanska