Environmental leaders honoured at 2015 Green Globe Awards – NSW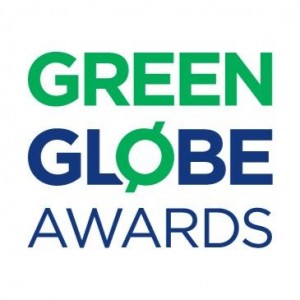 19 October 2015: Twenty-one Green Globe Awards 2015 winners were announced at a gala ceremony held at the Art Gallery of New South Wales last week. Environment Minister Mark Speakman congratulated the winners, who play a pivotal role in leading sustainable development right across the economy and community.
The prestigious Premier's Award for Environmental Excellence went to Brookfarm, a family-owned Byron Bay macadamia farm. Brookfarm was commended for their sustainable processing operations including 288 solar panels on its bakehouse.
The Regional Sustainability Award was presented to Lismore City Council for their array of environmental initiatives including Australia's first council-run solar farm.
The 10 Year Sustainability Achievement Award, a category open to 2005 Green Globe Award winners, went to the University of Wollongong for their impressive sustainability programs including extensive recycling and biodiversity initiatives and a 6-star Green Star rated building.
Also acknowledged were the 45 Green Globe Award finalists for their dedication to weaving sustainability practices across all facets of their initiatives.
GREEN GLOBE AWARDS – WINNERS
Premiers Award for Environmental Innovation
This award is presented to the most outstanding nomination from all the 2015 award finalists, decided by the judging panel. The Premier's Award recipient is chosen for exemplary leadership, vision and innovation demonstrating a particular determination in overcoming obstacles to deliver outstanding outcomes.
Winner: Brookfarm Pty Ltd – Muesli Powered by the Sun
A family-owned small business based in Byron Bay, Brookfarm produces gourmet macadamia products for local and export markets. Brookfarm has made sustainability the cornerstone of its farm and bakehouse operations, the company's branding, growth and business success. Brookfarm has installed 288 solar panels on its bakehouse, has saved 160 kilolitres of water a year through harvest and recycling of rainwater and, as part of its rainforest regeneration program, has planted more than 30,000 trees on the farm that have stored over 2310 tonnes of carbon. The company has reduced its waste per tonne of product by 25 per cent per week and increased its waste recycling by 23 per cent.
Brookfarm is a pioneer of biological controls in macadamia farming and has eradicated or dramatically reduced chemical, pesticide and synthetic fertiliser use.
Regional Sustainability Award
This award recognises the achievements of an organisation, project or individual that demonstrates leadership and/or innovation to deliver successful project outcomes by overcoming unique challenges in regional or rural areas. (All finalists outside greater metropolitan Sydney automatically qualify for this award)
Winner: Lismore City Council – Lismore's Vision – A Model of Sustainability
Lismore City Council supports a diverse and growing population with a mix of large urban areas in an active agricultural region. An 18-month community consultation process made it clear that the community wanted Lismore to be a 'model of sustainability'. The council has responded with an array of sustainability initiatives including:
a goal of generating all the council's electricity from renewable sources by 2023
Australia's first council-run solar farm, developed through community investment
Biodiversity Management Strategy 2015 incorporating the Rural Landholders Initiative – to create relationships with rural landholders to enhance biodiversity in ways that complement agricultural production
a state-of-the-art materials recovery facility processing recyclables from Lismore and four neighbouring Local Government Areas (LGA) – this includes a glass processing plant which recovers and crushes waste glass into glass sand for road construction
a landfill rehabilitation technique where native vegetation is grown on soil placed over the waste with reduced water infiltration and greenhouse gases.
10-year Sustainability Achievement
This award honours winners from the 2005 Green Globe Awards that can demonstrate long-term environmental achievements and successful program delivery and outcomes between 2005 and 2015.
Winner: University of Wollongong
The University has been a leader in sustainability since the 1990s and its impressive record over the past ten years has included:
a third less water use with strict irrigation regimes, waterless urinals and AAA rated showerheads
130 'e-champions' across campus who help and educate staff and students on environmental initiatives
opening the Sustainable Building Research Centre in 2014 with a 6-star Green Star rating
a biodiversity program planted tens of thousands of native plants over thousands of hours of bush regeneration work
recycling rates of 38% by volume, up from 8%
recycling 12 tonnes of e-waste, and composting and on-campus reuse of 20 tonnes of waste from food outlets
significantly reduced car use through increased carpooling including a '3 for free' initiative, and extension of shuttle bus services.
For more information on the awards and finalists visit the website of the NSW Office of Environment and Heritage here.