Energy Management and Company Competitiveness report
13 October 2014: Energy used to be seen as a relatively low, stable expenditure for companies, but due to steadily rising costs now has a significant impact on profits. ClimateWorks Australia's new report, Energy Management and Company Competitiveness, finds that improving energy performance can reduce the increase in energy costs by about half for the most affected companies.
ClimateWorks Australia's Head of Research, Amandine Denis said the report found companies could increase their profitability by up to 50 per cent on average if they lifted their energy performance to best practice.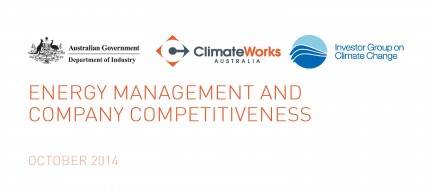 Limited capability and low motivation were identified as two major factors impeding better energy performance.
However, even a small improvement in energy management can result in a meaningful improvement in earnings.
'For over 70% of these companies, energy costs are greater than 10% of their EBITDA [earnings before interest, taxes, depreciation and amortisation],' said Amandine Denis.
"In addition, companies with a heavy reliance on the use of gas and oil such as those in the metals, minerals and transport sectors are highly exposed to changes in energy costs."
Methodology
The report provides a 5-step assessment methodology for companies to help understand their energy costs, exposure to future energy price rises, how much more energy can be saved and the impact of those savings on financial performance.
The methodology was applied to a sample of 50 large industrial companies to assess the magnitude of risks and opportunities across sectors.
The report builds on ClimateWorks Australia's earlier research that identified the top three energy management practices which could deliver companies up to 218 per cent more energy savings. These practices include regular analysis of energy data, senior management accountability and incorporating energy efficiency in corporate policies and operational guides. This research series was funded by the federal Department of Industry.
ClimateWorks collaborated with the Investor Group on Climate Change (IGCC) in undertaking this work. The CEO of the IGCC, Nathan Fabian said investors have increasing interest in energy costs.
"Investors are keen to understand the potential for financial improvement from good energy management practices. This report provides useful insights and an accessible methodology for companies to consider," he said.
Access the Energy Management and Company Competitiveness report here.
The report builds on previous analyses conducted by ClimateWorks Australia using data from the Energy Efficiency Opportunities program (now closed).