Carbon price repeal would shrink renewable energy but increase retail electricity prices
If Australia's emissions trading scheme (ETS) is repealed, renewable energy production would shrink and Australia would fail to meet our renewable energy target, according to an analysis conducted on behalf of WWF-Australia.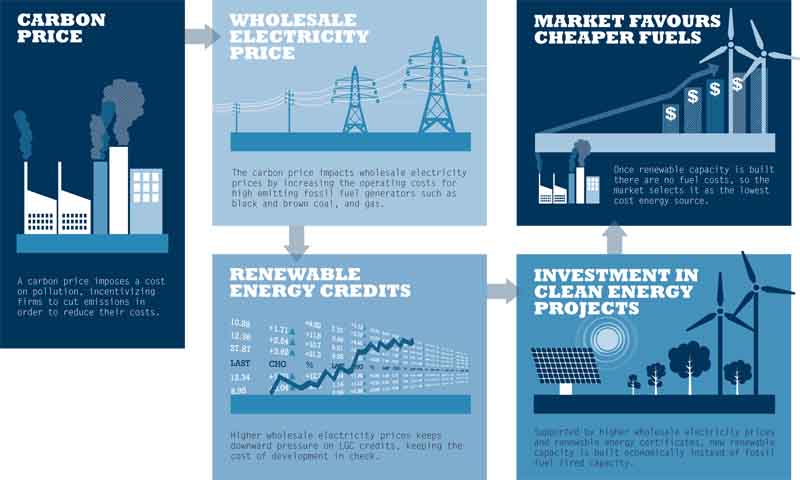 The report, prepared by specialist carbon and energy research firm RepuTex, also found it likely that retail electricity prices would rise as a flow-on effect of repealing the ETS.
"This study shows there would be a double whammy impact from repealing the ETS: a big drop in renewable energy projects, meaning more pollution, and higher electricity prices for consumers," said WWF-Australia Climate Change National Manager, Kellie Caught.
"Australia is the second highest carbon polluter per person amongst developed countries because of our reliance on coal-fired power. Transitioning to renewable energy will drive a significant reduction in our carbon pollution.
"Putting a price on pollution supports renewables in two ways. First, it provides a long-term price signal to investors to favour the build-up of low polluting energy like wind and solar, and second it works with the Renewable Energy Target (RET) to help reduce the cost of building new renewables, particularly the cost to customers.
"Australia's ETS is already having a positive impact on renewable energy generation, and will play a critical role in driving Australia's renewable energy low carbon future."
Key points from the report include:
The Carbon Pricing Mechanism (CPM), also known as an ETS, and the Large-scale Renewable Energy Target (LRET) are complementary market mechanisms that together support Australia's transition to a low carbon economy.
With carbon pricing in place, even at low prices, the modelling suggests that the large-scale renewable energy credits (LGC) market will continue to support the development of 7 GW of onshore wind energy at LGC prices between $40-75/MWh, achieving close to the 41,000 GWh RET target by 2020.
The modelling finds that should the carbon price be repealed, the price of LGC would likely spike to near the effective penalty price of A$85/MWh (the price of not purchasing a credit), at which point LGC prices would be capped, making the build of renewable assets uneconomic.
If the carbon price is repealed, investment in renewable energy in Australia would slow, as retailers choose to pay the penalty price instead of buying LGC at prices above A$80.
Repealing the carbon price would severely limit investment in additional onshore wind energy, potentially resulting in a capacity shortfall of nearly 6 GW, meaning that by 2020 only 14% of our energy would come from renewables – well short of our 20% RET target.
While wholesale electricity prices would be lower if the carbon price is repealed, retail customers would be unlikely to receive the benefit of any fall in wholesale prices, as electricity companies would actually be paying more under the LRET scheme. In other words, the outcome would likely be higher retail electricity prices, without the additional competition from wind energy or the benefits of shifting to a clean energy economy.
"WWF is urging all parties contesting the upcoming election to include a price and limit on pollution, like an ETS, as part of their climate change policies and commit to stronger pollution reduction targets," Ms Caught said.