Australia's carbon budget nearly blown
WWF-Australia today released a new report showing Australia's carbon budget is nearly blown and identified the need to significantly ramp up carbon pollution reduction targets. The findings come as the Climate Change Authority is due to release a critical report and independent recommendation on Australia's carbon pollution targets before the end of October.
The latest IPCC science report warned that the global greenhouse gas emissions must be contained within a finite carbon budget if we are to retain a reasonable chance of keeping global warming below 2 degrees Celsius. More than half of this global carbon budget has already been used up.
Australia's carbon budget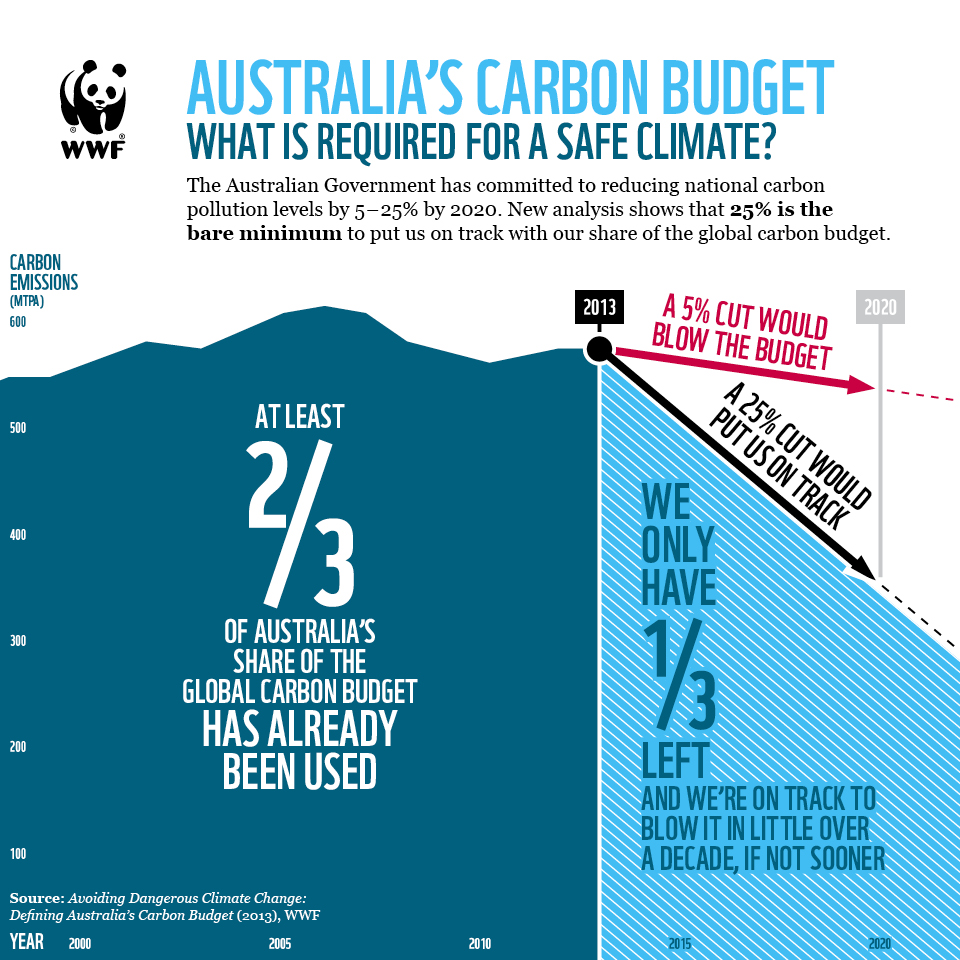 WWF commissioned global consultants Ecofys to analyse Australia's position. The key findings, which have been submitted to the Climate Change Authority, are:
Australia's fair share of the world's carbon budget is estimated to be no more than 18 billion tonnes and Australia has already used up between 66% and 84%of that budget.
If annual emissions remain at the current level, Australia's entire budget would be used up in a little over a decade, if not sooner.
For Australia to do its fair share our pollution reduction targets need to be:
27 – 34% below 2000 levels by 2020
82 – 101%below 2000 levels by 2030
98 – 106% below 2000 levels by 2050
Australia has made an unconditional commitment to reduce pollution by at least 5% below 2000 levels by 2020 and to increase that target to as much as 25% if other countries take similar action.
"We've nearly blown our carbon budget already and time is running out. If we're serious about keeping global warming below 2°C then we should immediately move to at least a 25% target," WWF-Australia National Manager Climate Change, Kellie Caught said.
"A 25% pollution reduction target for 2020 is the bare minimum to put Australia back on track to meet our long-term carbon budget."
"The good news is that other countries are taking stronger action. Unless Australia strengthens its target we risk falling out of step with key trading partners, such as China and the United States," MsCaught said.
"The only credible way to meet stronger targets is if we have a stable, long-term policy framework in place, including a price and limit on pollution."
"Just as we need a stable plan for our economic bottom line, we also need a stable long-term approach to our carbon budget."
"WWF is urging the Government to consult with key stakeholders to identify an environmentally effective, economically efficient and stable policy framework that is supported by Parliament, before repealing Australia's current climate laws."