Have your say on climate change mitigation and adaptation in Queensland
28 July 2016: The Queensland Government discussion paper on climate change mitigation and adaptation was released in May. It is entitled: 'Advancing Climate Action in Queensland: Making the transition to a low carbon future'.
You can respond to the discussion paper by emailing a written submission to climatechange@ehp.qld.gov.au before 02 September 2016.
You can also participate in an online survey at www.getinvolved.qld.gov.au.
The Queensland Government is seeking your ideas on what actions and opportunities Queensland should pursue to help shape our strategy across a range of sectors including:
energy and electricity
housing, buildings and town planning
waste management and recycling
agriculture and land management
training, trade and investment
mining and resources.
The following table is from the Environmental Defenders Office of NSW – it compares climate mitigation laws and targets implemented by Australian state and federal governments. As at July 2016, Queensland has no climate mitigation laws or targets. This is even more reason to have your say before (the extended deadline of) Friday 02 September 2016.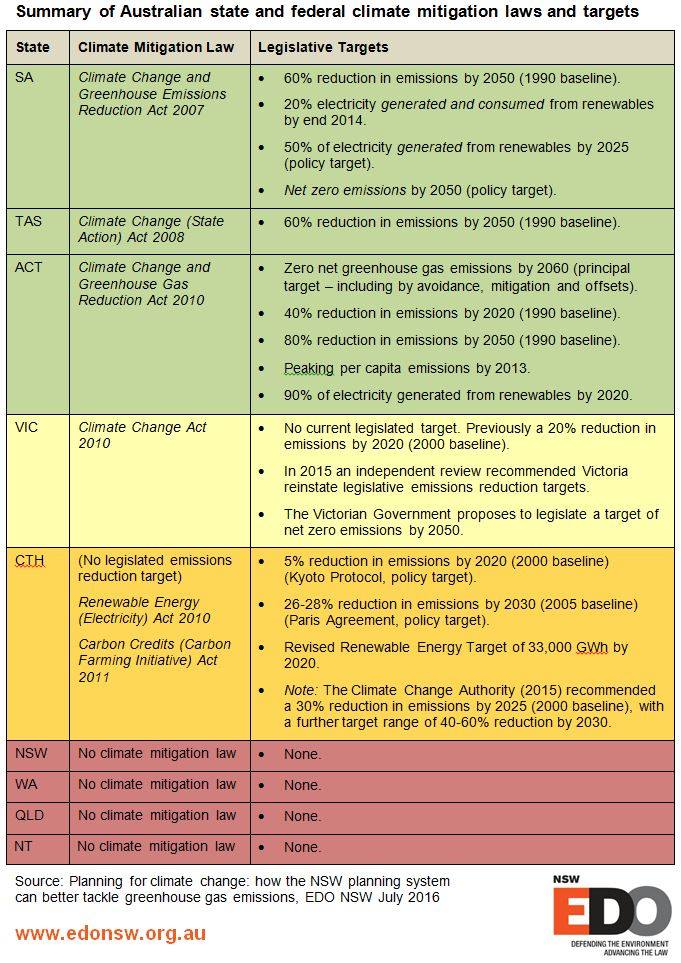 So what does the discussion paper say? The following are excerpts which outline what the Queensland Government is already doing and what more could be done.