2020 recap – good news in Australia for business sustainability
2020 will be remembered as the year of horrific fires, COVID19 and absurd Trumpism to say it mildly.
It was also a tough year for those who have been following Australia's climate policy wars.  Cringeworthy was the 'gas-lead recovery' touted by the Australian Government and the announcement that the Australian Renewable Energy Agency (ARENA) could be funding carbon capture and storage in the future (refer https://theconversation.com/a-dose-of-reality-morrison-governments-new-1-9-billion-techno-fix-for-climate-change-is-a-small-step-146341 ).
However, for anyone interested in business sustainability, there were a number of highlights worth celebrating in Australia.
In June 2020, WWF and EY produced a report full of recommendations for a $2 billion green economic stimulus package in light of COVID19. The report says:
A renewable-led recovery would create over 100,000 direct jobs and future-proof our economy.
It would bring manufacturing back to our shores, grow existing industries, unlock new industries and boost global exports.
Every dollar of stimulus spent on clean energy projects generates nearly three times as many jobs per dollar than investment in fossil fuel projects.
Read more at https://www.wwf.org.au/what-we-do/climate/renewables/renewable-export-covid-19-recovery-package#gs.qbkjqx
It was no surprise then that in November 2020 the Victorian Government announced a $797 million energy efficiency stimulus package to improve the quality of homes, create jobs and boost public health. In addition, the Victorian Government flagged that in 2022, it would introduce new minimum energy efficiency standards for rental homes.
The $797 million included:
$335 million to replace old wood, electric and gas fired heaters with new energy-efficient systems in 250,000 homes;
$112 million to upgrade the comfort and efficiency of 35,000 social homes;
$14 million for appliance upgrades under the Victorian Energy Upgrades program; and
New minimum energy efficiency standards for rentals homes to ensure that they are fit for habitation will be in place from 2022.
"This is a transformative investment in energy efficiency from the Andrews Government, the largest single energy efficiency investment from any state government in Australian history," said Luke Menzel, CEO of the Energy Efficiency Council.
"We know that energy efficiency upgrades of buildings have the biggest jobs multiplier of any form of clean energy stimulus. Victoria is harnessing that jobs multiplier to supercharge their post-COVID recovery, create thousands of good, local jobs and cut carbon along the way," said Luke Menzel.
Also, in November, the NSW Government announced its intent to become a renewable energy superpower. Central to this goal was the newly released Electricity Infrastructure Roadmap including planned renewable energy zones in the Central West and New England regions.
The plan committed to incentives for the private sector to build critical energy infrastructure by 2030 and pave the way for the retirement of coal-fired power generators. The renewable energy zones are expected to unlock over 9000 new jobs while supporting farmers and land owners, with $1.5 billion in lease payments expected to go to landholders hosting new infrastructure by 2042.
It was clear by the end of the year, that 2020 was a huge year for corporate Power Purchase Agreements (PPAs), an alternative to the traditional retail electricity contract. A quick glance at the Energetics deal tracker (pictured) demonstrates how their popularity and impact has grown. This is particularly exciting given that the National Electricity Market (NEM) experienced a downturn in pricing such that PPAs had to be more competitive than ever for any corporations relying on the price differential to justify a shift from their existing retail electricity contract.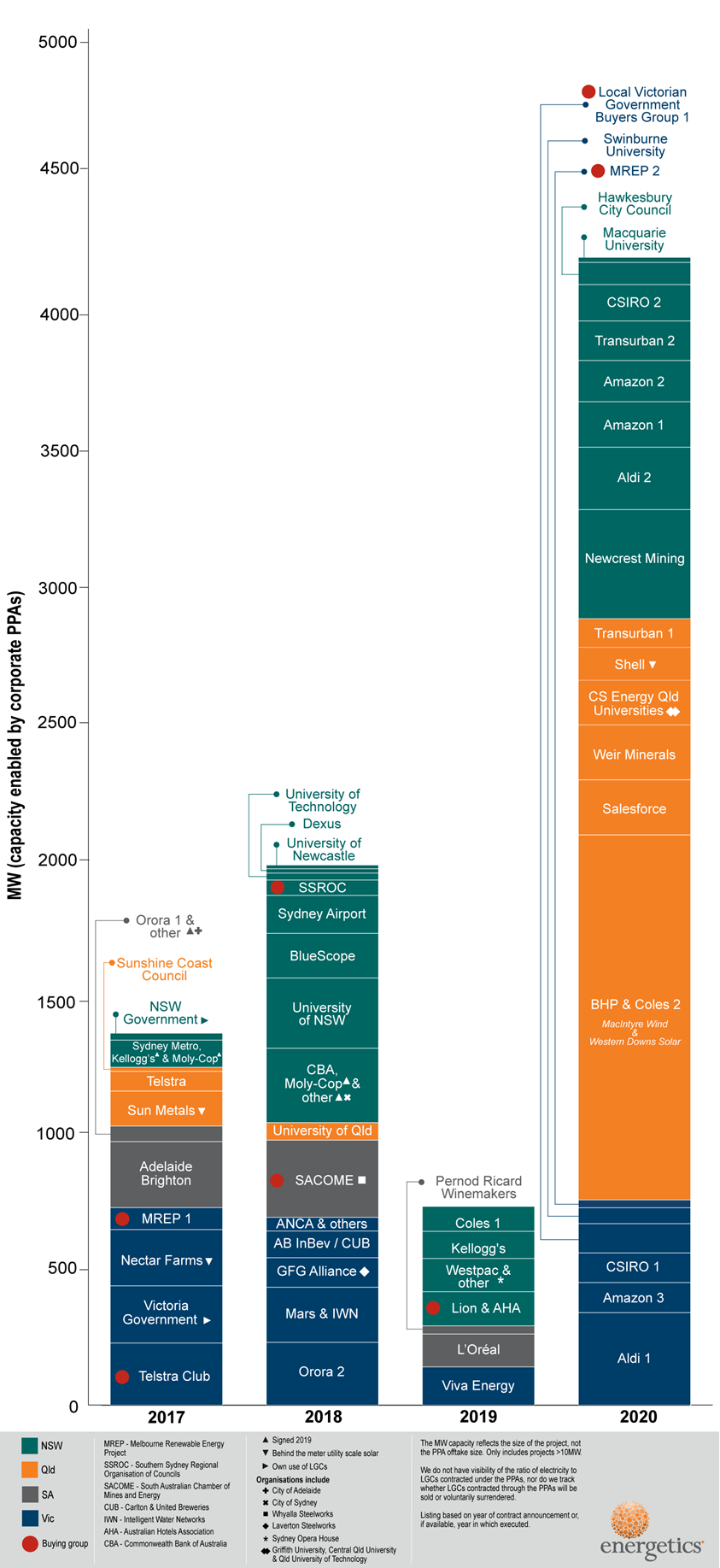 Source: Energetics – https://www.energetics.com.au/insights/knowledge-centres/corporate-renewable-ppa-deal-tracker
A significant step forward in 2020, was the release of the Renewable Integration Study (RIS) by the Australian Energy Market Operator (AEMO), following on from its Renewable Energy Plan, a blueprint for Australia to achieve 75 renewable energy by 2025. The RIS was widely welcomed as a critical first step towards enabling the growth of renewables in the NEM while ensuring system security and stability.
This is an exciting development given that a high penetration of wind and solar won't be possibly without an urgent update to the market and regulatory settings. Driving the urgency for these reforms are factors such as the:
increasing popularity of PPAs;
incremental growth of rooftop solar (and behind the meter innovations);
need to retire coal-fired power stations in the future (due to ageing assets);
bold renewable energy targets of States and Territories; and
obvious climate crisis which continues to see so many conservative politicians flounder (despite leadership by politicians like Boris Johnston).
[Sadly AEMO lost its visionary CEO and Managing Director, Audrey Zibelman in late 2020 who returned to the USA.]
Read more at https://aemo.com.au/en/energy-systems/major-publications/renewable-integration-study-ris
Less high profile was the news of the establishment of a non-profit organisation based in Australia which established the Zero-carbon 2030 Project. The organisation is increasing transparency through its platform which rates businesses (large and small), financial institutions, and investment managers for their actual carbon performance (rather than pledges alone).
Companies rated so far include the big four Australian banks, Macquarie, major supermarkets, Coke, Pepsi and McDonald's.
Participating businesses are required to address the following:
Measure and disclose all carbon emissions. Large companies will also adopt the recommendations of the Task Force on Climate-related Financial Disclosures (TCFD).
Carbon labelling – By 2023, all products and services will be clearly labelled with their respective carbon impact, so consumers are able to make informed purchasing decisions.
Renewable energy. – Transition to 100% renewable energy by 2030 (including interim targets).
Carbon neutrality – Achieve net-zero carbon emissions across your value chain (Scope 1, 2 and 3 emissions) by 2030 (including interim targets).
Carbon offsetting – Purchase carbon offsets to meet any shortfalls in achieving #3 and #4.
Carbon neutral projects and investments – Only invest in new companies and projects that meet the zero-carbon 2030 Commitments.
Verification – Permit annual verification audits to ensure compliance with zero-carbon 2030 Commitments.
Political influence – Positively influence governments and only commit to supporting political entities that commit to climate policy that will limit the average global temperature rise to 1.5°C.
There are additional expectations for financial institutions and investment managers.
Read more at https://zero-carbon2030.org/about/
Well worth a mention was the establishment of the Climate Leaders Coalition (CLC) by the B-Team Australasia. The CLC is effectively a group of the CEOs of Australia's biggest companies and is co-chaired by David Thodey, Lynette Mayne, and John Lydon.
The group's website says:
"supporting the Paris Agreement commitments and setting public decarbonisation targets. Its purpose is to provide a common voice on why big business is seeing decarbonisation as a way to ensure long term economic sustainability – and how they can have an impact and realise competitive advantage through early action in an apolitical and non-confrontational manner. The CLC is action orientated and provides an open, confidential and authentic forum for CEOs to share the challenges of their decarbonisation journeys. It is inclusive and provides information and case studies for those CEOs not yet taking action and wanting to understand their options".
The 22 founding members include:
AGL
Australian Red Cross
BHP
Citi
Deloitte
Dexus
Fortescue Metals Group
Incitec Pivot Ltd
Light Warrior
Lion
Microsoft
Mirvac
Rio Tinto
Santos
SAP
Talent
Unilever
Viva Energy Australia
Wesfarmers
Worley
Read more at https://www.climateleaders.org.au/about/
Finally, in related news, 2020 saw the launch of the Australian Sustainable Finance Initiative (ASFI) – a collaboration formed to help shape an Australian economy that prioritises human well-being, social equity and environmental protection, while underpinning financial system resilience and stability. Like the Climate Leaders' Coalition, the ASFI brings together leaders spanning Australia's major banks, superannuation funds, insurance companies, financial sector peak bodies and academia.
The group has produced a Sustainable Finance Roadmap, developed in consultation with diverse sectors and stakeholders. The Roadmap recommends pathways, policies and frameworks to enable the financial services sector to contribute more systematically to the transition to a more resilient and sustainable economy, consistent with global goals such as the UN Sustainable Development Goals and the Paris Agreement on climate change.
Read more at https://www.sustainablefinance.org.au/roadmap
For news on positive overseas developments and hope for greater climate action check out:
https://www.climatecouncil.org.au/climate-action-overseas-some-good-news-change/