2015 Australian business awards honour sustainable businesses and government initiatives
In 2015, the winners of the Australian Business Award honour sustainable businesses and government initiatives including innovative eco products. Winners were announced on 14 August.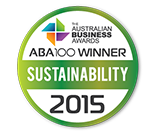 The Sustainability category recognises organisations that execute initiatives that demonstrate leadership and commitment to sustainable business practices.
ABA100 Winners 2015 – Sustainability
Bupa
Club Assist
De Bortoli Wines
Department of Water, WA
GJK Facility Services
KFC Australia
Lush Cosmetics
Qantas Airways Limited
Tassal Group Limited
Veolia Australia and New Zealand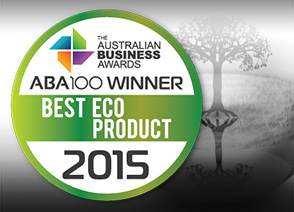 ABA100 Winners 2015 – Best Eco Products
Staples 100% Recycled Copy Paper
Staples Carbon Neutral 20% Recycled Copy Paper
Tri Nature Alpha Plus Pre Wash Soaker
The Australian Business Award for Best Eco Product recognises eco-products that demonstrate product leadership offering a point of difference from their competitors.
In addition, sustainable products won awards in mainstream categories such as Best New Product and Product Excellence.
Read all about the winners below.
The first rechargeable electric lawn mower, by Chervon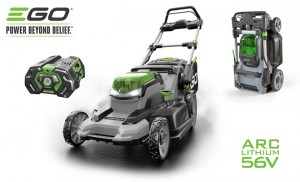 In 1993 the Chervon Trading Company was formed, with their focus being the development, manufacture and sale of electric power tools and other similar products. They also research and test products, as well as providing after sales services.
Chervon have developed the first rechargeable electric lawn mower, the 'Ego+ Mower' that matches or surpasses the performance of petrol run mowers. The mower doesn't require the cost of petrol, oil or other maintenance that is demanded by fuel mowers. The battery in the mower is interchangeable between other Chervon electric-run devices such as chainsaws, line trimmers and blowers. The battery is 40% more powerful than its competitors, and takes just 30 minutes to fully charge. Typical petrol-run mowers operate at 102 decibels, with the Ego+ running at a much lower 93db. It has a push button start, no emissions, much lighter than a petrol mower, is lightweight and easy to store and comes with a 5 year warranty. The Chervon Trading Company has been recognised as an ABA100 Winner for Best New Product and Product Excellence in The Australian Business Awards.
Bupa determined to reduce carbon emissions
Bupa's Australian and New Zealand businesses are part of the international Bupa Group, which cares for more than 29 million people in over 190 countriesBupa was originally formed in 1947 in the United Kingdom with a vision to provide dedicated healthcare of every kind. These days the company works for 22 million customers in 190 countries, providing dental clinics, primary care centres, retirement villages, and offering health insurance and medical subscription products and residential care homes.
Bupa's purpose is longer, healthier, happier lives and is a leading healthcare group, providing health insurance and aged care services, as well as complementary healthcare services through Bupa Dental Corporation, Bupa Optical, Bupa Medical Visa Services, Bupa Health Dialog, Bupa Wellness and Bupa Medical GP Clinics in Australia. Bupa focuses on providing sustainable healthcare solutions that represent real value, and on leading the industry in the promotion of preventative health and wellness.
As a core part of their '2020 vision' (a body of sustainability goals set out in 2011), Bupa aimed to reduce their carbon emissions by 20% by the end of 2015. The global company began an Energy Saver Fund (ESF), with £25 million initially invested towards improving energy efficiency and renewable energy sources.
In 2014, Bupa saved 1500 tons of Co2 through a single solar panel project that they ran as a part of the ESF. This project involved installing solar panels on all Bupa care homes within Australia. This involved the installation of 13,000 solar panels across 65 care homes, set to generate $4.5 million dollars of electricity in ten years.This dedication to improving energy efficiency has seen Bupa recognised as an ABA100 Winner for Sustainability in The Australian Business Awards 2015.
Bupa Director, Corporate Affairs, Dieter Lehmann, said "Bupa recognises that to have healthy people we need a healthy planet. That's why we are committed to reducing our carbon footprint globally, whilst improving our business operations locally.
"We are proud to receive this acknowledgement of our collective efforts to operate in an efficient and sustainable way, as a demonstration of our commitment to enabling longer, healthier, happier lives."
Club Assist – Environment and Staff happiness priorities
When Club Assist first started operating in Melbourne in 1991, their goal was to provide RACV members with the best battery replacement service on the market. They have grown to provide a huge range of vehicle, customer service and marketing services, and work closely with 68 motoring clubs worldwide.
Using an EPA approved recycling centre, every battery that Club Assist receives is recycled, encouraging the public to discard used batteries at drop of points and promoting responsible recycling. Club Assist also greatly favours repairing a chip in a windscreen before replacement. Similar to batteries, glass is also recycled by the company, with over 800 tonnes of glass being recycled in 2014. Club Assist works closely with Australian Refined Alloys (ARA) to meet a monthly battery recycling budget, following a strict OH&S process.
The dedication to recycling does not stop there, but in Club Assist offices the recycling of all materials ranging from paper, plastic and mobile phones is encouraged. This dedication has seen Club Assist recognised as an ABA100 Winner for Sustainability in The Australian Business Awards 2015.
Chemical-free laundry concentrate puts Tri-nature ahead of the pack
Tri-nature have developed a phosphate free laundry soaking concentrate. The Alpha Plus Pre Wash Soaker is an ideal choice for our waterways, the environment and the health and safety of families. As a result, In 2015 Tri Nature has been recognised as an ABA100 Winner for Best Eco Product in The Australian Business Awards.
Being phosphate free means that the soaking concentrate contains no fillers or extenders, chlorine compounds, bleaching agents, petrochemicals, or zeolites which are often found in supermarket detergents. Chemicals such as Zeolites can make up to 30% of similar products but are completely insoluble in water, and phosphates are a major contributor to environmental problems around the world.
Tri Nature is committed to source materials from renewable sources whenever possible, and for the cultivation, collection and processing of raw materials used in its product to be sustainable. Products in their Alpha Plus Laundry Range are reportedly their highest selling, and through this allowing the growth of environmental awareness across Australia.
De Bortoli Wines strives for sustainability
Having been around since 1928, De Bortoli Wines is Australia's second largest family-owned winery and the sixth largest based on wine sales.
The goal of the organisation is to become 'The Zero Waste Wine Company' by becoming more energy efficient, adopting effective water waste management and increased waste management techniques.
For their sustainability project, De Bortoli Wines has been recognised as an ABA100 Winner for Sustainability in The Australian Business Awards 2015.
The wine company has recently invested $15 million dollars in what they call the "Re-engineering Our Future for a Carbon Economy Project," which includes the installation of the largest solar panel system in any winery in Australia and the efficient management of waste.
The company has begun reusing wastewater to grow crops, and upgraded their wastewater treatment system which has resulted in the improvement of energy consumption by 90%.
De Bortoli Wines has also established a dedicated sustainability project team to develop plans for improved sustainability.
This team has upgraded many of the systems such as pumps and refrigerators, and due to these improvements a 20% reduction of energy intensity is set to be achieved, and a savings of $500,000 in costs per year.
'Re-Engineering Our Future for a Carbon Economy Project' reflected De Bortoli Wines' sustained focus on continued and innovative environmental practices.
"We are committed to improving environmental responsibility to safeguard a future where great wine and a healthy environment can be enjoyed by everyone," said Mr De Bortoli, Managing Director, De Bortoli Wines.
"Being named an ABA100 Winner for Sustainability is recognition of the hard work the De Bortoli team has done over the last few years to build and grow a business that is dedicated to reducing its impact on the environment, while continuing to producing premium, affordable wines for consumers in Australia and around the world.
"It is satisfying to once again be recognised by our peers as a leader in sustainable practices."
WA Department of Water aims for Sustainability
For its efforts in the Rural Water Plan, originally developed in 1995, the Department of Water Western Australia has been recognised as an ABA100 Winner for Sustainability in The Australian Business Awards 2015.
Western Australia's Department of Water, A/Director General, Mike Rowe said "the awards were great recognition of the department's commitment to sustainably managing Western Australia's water resources and role in supporting regional businesses and communities."
The plan provides an organised and structured approach to maintaining sustainable farmland water supplies in agricultural areas that have an average rainfall of less than 600mm.
It focuses on encouraging farmers to be self-sufficient when it comes to water supply maintenance, reducing the reliance on piped water services, and inspiring innovative ways in the reserved use of water.
Throughout the last 20 years of the plan's implementation, adjustments have been made to make sure that it is achieving its original goals. Feedback has also been regularly sought after, shedding positive light on the plan's success.
Farmers who invest in on-site water supply improvements are eligible for government rebates of up to $15,000, and grants of up to $20,000 are awarded for pastoralists who develop alternate watering points that reduce grazing intensity.
The program has allowed for farmers across the state to see the returns that are available for adopting sustainable water management facilities.
GJK promotes the use of sustainable chemicals
Not only does GJK Facility Services lead the way in offering cleaning and other soft services, but it also recognises that sustainability is essential for the industry it operates within. The organisation implements an Environmental Management System and a Green Procurement Policy which ensures all materials sourced are environmentally friendly, reduce the wastage of water and energy and limit chemicals discharged into the environment.
The organisation strives to use biodegradable, sustainable, and environmentally preferable products as well as implementing strategies that ensure there are no chemical waste, reduced energy consumption and paperless communications to just scan the tip of the iceberg. Green chemicals that the company use include Bio + Green Crystals and Solucare, which are waste free, not harmful to humans or the environment.
GJK head office has converted to 50% renewable energy and created an Energy Action Plan so that it can continue to reduce its emissions. The company has created a guideline to promote the use of Green Equipment itself and for its clients, staff are also encouraged under a "lights off policy," to turn lights on only in a particular area they are attending to.
This level of service has seen GJK Facility Services recognised as an ABA100 Winner for Sustainability in The Australian Business Awards 2015.
KFC leading by example with its duty to reducing carbon footprint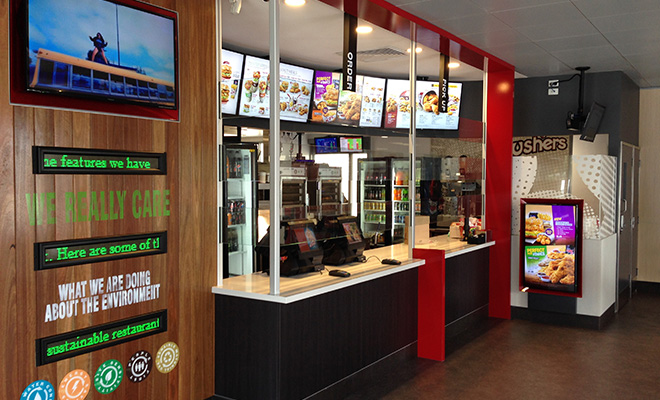 KFC opened its first restaurant in Australia in 1968 in Guildford NSW, employing just 25 people. The business has since grown into 60 franchises, 600 restaurants and employs just under 30,000 people. Worldwide, the KFC Corporation is made up of 19,400 outlets in 120 countries around the world. From its humble beginnings in 1930 when Harland Sanders began cooking fried chicken for hungry travellers, to the global giant it is today, success is an understatement for the organisation.
The company is determined to become more sustainable and has pledged to reduce the impact it has on the environment through several measures. By the end of 2015, KFC intends to reduce energy consumption in its restaurants by 15% and implement supplier environmental audits. The company also intends to create waste recovery projects to recycle and use waste in restaurants, and purchase paper based packaging from responsibly managed forests and sources. KFC aims to build all new restaurants in line with Leadership in Energy and Environmental Design (LEED), green standards. The organisation also aims to reduce water consumption by 10% in company owned restaurants by the end of the year. These efforts have seen KFC Australia recognised as an ABA100 Winner in The Australian Business Awards 2015 for Sustainability.
Tassal Group devoted to sustainable farming
Tassal Group is a leader in the Salmon industry within Australia, providing a highly ethical and recognised product to consumers that is environmentally decent. As Salmon populations that exist on the planet are not unlimited, Tassal must operate in a sustainable manner.
The organisation boats that it plans its salmon farming very far into the future, sometimes as far ahead as 15 years. The key business driver to their business is sustainability, and this is shown through Tassal becoming the first salmon company in the world to certify all their farms to the ASC standard. The group also has a close partnership with WWF which strives for sustainable agriculture – through this partnership Tassal has committed itself to safeguarding marine eco-systems and ensuring the long term availability of seafood supplies. At the heart of the business is the value of 'Zero harm for everyone, everywhere,' and Tassal adopts this throughout its business practices.
In 2015 Tassal group has been recognised as an ABA100 Winner for Sustainability in The Australian Business Awards.
QANTAS set to cut net emissions
Following a number of reporting programs to establish a greater understanding of their environmental imprint, QANTAS then utilized this information to set goals for reducing the impact it has on the planet.
In 2007 QANTAS set electricity, water and waste reduction targets. In between the years of 2009 and 2014 electricity consumption was reduced by 9%, water by 11% and wastage by 20%. These goals were then further upgraded in 2011.
By 2020 the airline intends to reduce electricity, water and waste usage by 20%. QANTAS also intends to improve fuel efficiency by 1.5% each year and cut net emissions by 50% by 2050.
The organisation is the first Australian airline to operate a commercial flight using Sustainable Aviation Fuel. The company also has partnerships with The Great Barrier Reef Foundation, Cairns Turtle Rehabilitation Centre, North Kimberley Fire Abatement project and Ngati Awa Heritage Estate. The carrier has made sustainability a priority and as such in 2015 has been recognised as an ABA100 Winner for Sustainability in The Australian Business Awards.
Qantas Head of Group Fuel and Environment, Alan Milne, said of winning The Australian Business Award for Sustainability "We are thrilled to be recognised as a leader in sustainability through The Australian Business Awards.
"At Qantas, sustainability is integral to our business and we have made a commitment to our customers, employees, shareholders and the broader community that we will continue to focus on reducing our environmental impact and increase our understanding of emerging global environmental and social trends to find opportunities for our business."
Veolia focused on changing attitude on energy
In 2011-12 business expenditure on electricity totalled $20.2 billion, with large businesses accounting for over half of this amount. Veolia recognises that all businesses require energy and water to operate but is dedicated to helping companies reach sustainable usage levels.
In 2015 Veolia has been recognised as an ABA100 Winner for Sustainability in The Australian Business Awards.
Veolia knows the issues that companies face regarding water and energy, and in response to this has created innovative ways that promote and facilitate sustainability. The company inspects water pipeline networks and assesses their conditions before implementing maintenance and rehabilitation strategies. As a direct result of Veolia's work Goulburn Valley Water has seen a vast improvement in water quality across its network. The company has developed an "Energy Live Dashboard," that companies are encouraged to install in parts of their facilities with high traffic such as reception – enabling clients, employees and stakeholders to see improvements regarding energy usage. Through "Veolia's Energy Service Centre" (VESC) company's energy usage can be remotely monitored, and then companies can be provided with an in-depth report in areas they can make improvements.
Staples 100% recycled paper a great step towards sustainability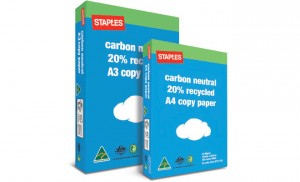 Staples 100% Recycled A4 Copy Paper is made from 100% recycled paper waste. The product is manufactured in Australia, has a clean and white appearance that is suitable for printing and copying needs, whilst meeting Australian Forestry Standard (AFS) and PEFC™ certification.
The paper is manufactured at the Australian Paper Maryvale Wastepaper Recycling Plant, and because of the recycling process 80,000 tonnes of waste paper are diverted from landfill annually. In addition to this up to 200,000 tonnes of CO2 are not injected into the environment, this is the equivalent of taking 80,000 cars off the road. Staples 100% Recycled Paper not only provides a broad range of environmental benefits but also greatly contributes to the Australian economy providing 967 jobs during the construction phase of local plants, with a further 240 ongoing opportunities.
These initiatives have seen Staples Australia recognised as an ABA100 Winner for Best Eco Product and Best New Product in the Australian Business Awards 2015.
Carbon Neutral paper shows Staples duty to sustainability.
Staples is the world's largest office products company, providing products, services and expertise with office supplies, technology solutions, business furniture, print solutions and a range of other services. The company ranks 3rd in the world in ecommerce sales with an annual revenue of $25 billion. In 2015 Staples has been recognised as an ABA100 Winner for Best Eco Product and Best New Product in The Australian Business Awards.
The company has developed a Carbon Neutral 20% Recycled Copy Paper. Being a carbon neutral product means that the manufacturer has accounted for greenhouse gas emissions throughout the products lifecycle, this data is gathered through an independent audit. The product is only available through Staples and demonstrates a dedication towards sustainability. Sourcing the materials requires following a strict Ethical Sourcing Policy to meet quality, environmental and social standards. All fibre used in the manufacture of this paper has been sourced from managed regrown forestry operations around Australia.
LUSH Cosmetics committed to sustainability
Not only is LUSH dedicated to providing an excellent working environment for its employees, central to the organisation's mission is to be more sustainable.
There are several ways in which the cosmetic company expresses its dedication to sustainability, through using responsible packaging, encouraging recycling, NO animal testing, charity support and the ethical sourcing of ingredients. LUSH also adopts several 'Green Initiatives' to practice commitment towards sustainability.
In 2015 the organisation pledged for its staff to no longer purchase single use coffee cups under their KeepCup program. All staff were gifted with a KeepCup to use when purchasing coffee, resulting in a 91-92% reduction in landfill annually when compared to single use cups. Under the 'Refill Not Landfill,' scheme – the business has made the decision to ban all plastic beverage containers from workspaces, every LUSH store has also been turned into a refill station, where customers can refill their re-usable drink bottles for free. These are just two of the many Green Initiatives that LUSH have implemented to reduce carbon emissions and promote environmental sustainability. Other initiatives include Plastic Free July, Flight Emissions, and creating a new "Green" manufacturing facility.
As a result, LUSH cosmetics has been recognised as an ABA100 Winner for Sustainability in 2015.
More about the ABA100 Australian business awards
The Australian Business Award for Sustainability recognises organisations that execute initiatives that demonstrate leadership and commitment to sustainable business practices.
Eligibility
Organisational participation includes private companies, publicly listed companies, multi-national subsidiaries, non-government organisations, educational institutions, franchise systems, partnerships, government departments, government agencies, local government and statutory bodies operating in Australia.
Initiatives can include but are not limited to projects, programs, processes, services, systems, technologies, developments, ventures and undertakings.
Assessment
Entries are assessed utilising a robust and dynamic framework to ensure that the assessment process is pertinent and objective. The World Business Awards Framework (WBA Framework) is utilised as a structured model of assessment that enables the participating organisations to be benchmarked against world class performance standards. The Framework consists of specialised assessment modules pertaining to the evaluation criteria for each of the award categories. The criteria and sub-criteria provide a robust set of requirements that are used as the methodology for benchmarking and learning among the participating organisations.
Scope
Organisations that participate are provided with the unique opportunity to benchmark themselves against the top performers globally. The recipients are acknowledged for their achievements and recognised as the elite of their industry earning a place amongst a distinguished group by having their products, projects, initiatives, contributions and achievements recognised on a prominent and far-reaching scale. The program provides the ultimate platform for building knowledge, increasing brand awareness, equity, loyalty and retention through increased exposure, recognition and prestige. This establishes a valuable resource that can be used extensively to create opportunities for publicity, positive organisational profiling and heightened brand awareness within the respective industries both nationally and internationally.