2014 Top 100 Thought Leaders for trustworthy business and corporate responsibility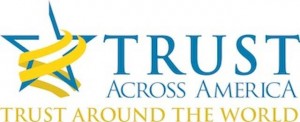 January 14, 2014: Trust Across America-Trust Around the World (TAA-TWA), global leaders in organisational trust, has selected 2014's Top 100 Thought Leaders in Trustworthy Business. These experts are helping to transform the way organisations do business towards greater corporate responsibility on environmental and social governance.
This year's recipients hail from around the globe and once again include leaders from the public and private sectors as well as authors, consultants, researchers and academics. Each honoree has made an extensive and positive contribution to building trust in organizations and many have joined Trust Across America's Alliance of Trustworthy Business Experts (ATBE), a vetted program of global experts who are collaboratively combatting the world's trust crisis.
The full list of Top 100 thought leaders in trustworthy business can be found here.
TAA-TAW publicised and received hundreds of nominations from around the world. The list was narrowed through an extensive vetting and independent judging process.
According to Barbara Kimmel, "The honorees are inspiring organisations to look more closely at their higher purpose…to create greater value for, and trust from, all of their stakeholders. They understand that trust is an asset that can leverage real business gains. We congratulate all of our honorees whose work is shining a spotlight on the importance of trust and providing a roadmap for others to follow."
Trust Across America-Trust Around the World is a program of Next Decade, Inc., an award-winning communications firm that has been unravelling and simplifying complex subjects for over 20 years. TAA-TAW provides a framework for organizations to improve trustworthy practices, as well as showcasing individuals and organizations that are exhibiting high levels of trust and integrity.