Responsible Investment Australia 2017 – Sydney
Date/Time
Date(s) - 15/11/2017 - 16/11/2017
All Day
Location
Powerhouse Museum Sydney
Category(ies)
Responsible investment has reached a tipping point, becoming the benchmark for leading investment practice and in the process redefining the investment landscape.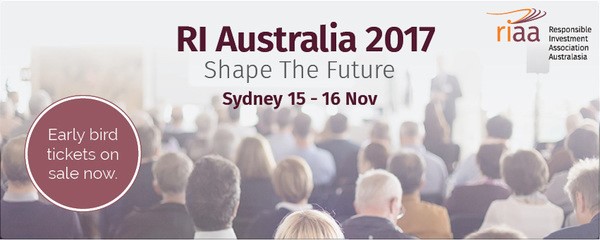 With billions set to flow into responsible, ethical and impact investments over the coming 3-5 years, attending this year's event will be essential for those managing money on behalf of clients, members and other beneficiaries.
So where to from here?
This year's event will focus on the essential knowledge and expertise you and your organisations need to thrive in a world where members and clients demand a responsible investment approach to their savings, investments and banking.
From ethical screening and better management of investment risk, through to enhanced portfolios, the next wave of responsible investing will focus on the impact of our investments on shaping the future.
RIAA's annual conference is the premier event built on a cutting-edge program including thought-leaders on responsible, ethical and impact investment. This year's event brings together 300 people from across superannuation, funds management, financial advisory, foundations, family offices and beyond – from retail to institutional.
Event website: https://responsibleinvestment.org/riaa-events/ri-australia-2017/
Program Highlights
Constructing a portfolio around the Sustainable Development Goals: explore the portfolio options to invest in impact across asset classes, with a focus on the SDGs
ESG trends to watch – leading researchers bring the next big issues for investors to have on the radar (Presented by ESG Research Australia)
Pitch sessions – a fast-paced overview of some of the investment options across asset classes that are making it easier to invest responsibly, ethically and with impact
Natural capital – what's it got to do with responsible investment?
Sealing the deal: finding deep engagement with clients and members through responsible and impact investment – the next wave of business to customer relationships
Fin tech disruption – where are we at and what does responsible investment look like in this new world?
Climate change – from talk to action, insights on how leading investors are shaping portfolios in response to climate risk
Policy landscape for responsible and impact investing – an update
Issuers and investors – friends or foes? What does the future of active ownership look like for delivering impact for investors and issuers?
Financial Adviser masterclass: advising clients on responsible investment portfolios
ESG integration masterclass: a deep dive in to leading practices in ESG in 2017 and beyond
The democratisation of capital – are we there yet? Fintech, the rise of millennials, start-up super funds, all unlock our ability to invest our money the way we want it. But has capital yet become democratised?